Characteristic:
Non-blockage; oil box setup; submerged structure for various special installation

Application:
It is applicable for industrial and agriculture water feeding, urban water supply, mild sewage discharge, water transfer projects. It is especially suitable for pump station and flood control in riverside and Lakeland with biggish water rise and fall.

Working Condition:
Flow Rate Q:5~3000m³/h
Head H:0~45m
Speed N:980~2900r/min
Caliber: Φ25~Φ500
Temp Range T:-15~+60℃
Service Pressure P: Max 0.6Mpa
Material: cast iron, stainless steel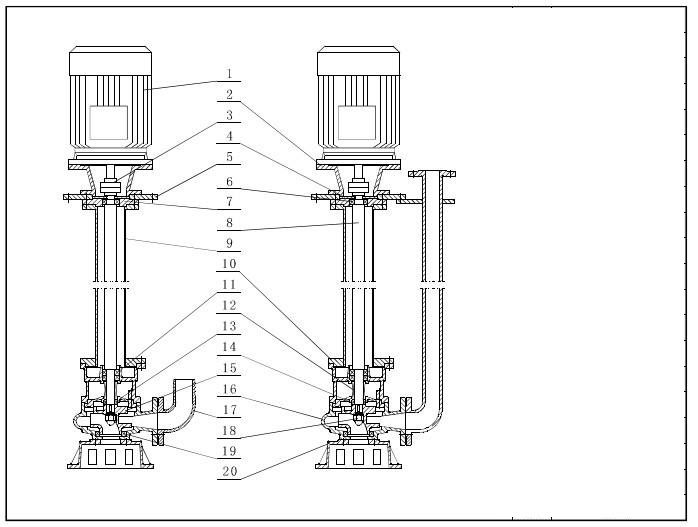 The Special Characteristics Of Vertical Submerged Pump
a. Adopt unique single or double vane impeller structure, greatly improve the through capacity of the contamination, can effectively through the pump fibre material 5 times of pump diameter and about 50% of the solid particles.
b. The mechanical seal adopts the new rigid titanium tungsten material, which can keep the pump safe for more than 8000 hours.
c. Overall structure is compact, small volume, low noise, energy-saving effect is remarkable, maintenance is convenient, without having to build pump room, working while being submerged into water, and greatly reduce the project cost.
d. The pump is compact, compact, easy to move and easy to install.
e. Can be equipped with the automatic control cabinet of liquid level, according to the necessary liquid level change, the automatic control pump can stop, need not be supervised, use extremely convenient.
f. When the pump work for vertical structure, the pump body is immersed in liquid and therefore it is easy to start, there is no exhaust time problem, at the same time has many characteristics, such as no leaking, submerged depth can be up to 15 meters.
g. The shaft structure is advanced and reliable, the pump and motor are connected to the shaft, the pump shaft is precise, and the pump is kept running smoothly, with sufficient safety factor.
h. The pump has single pipe installation and double pipe installation. The supporting parts are installed by disc and square, suitable for different needs.