DESIGN PRINCIPLE
The structure of the ZDLM electric cage type control valve series is the relative simpler among all the kinds of control valves with the accurate flow characteristic. Besides the single seat control valve, the cage type control valve is secondly most used among all the kinds of control valves. It plays an important role in the nine kinds control valves types, in one project, the quantity of the cage type valves some time will exceeds 60% among all the control valves. Because of the improvement of the level of processing nowadays, people pay more attention on the cage type control valves, we had improved the structure and processing technic greatly, as for the hard sealing type, its leakage level can even meet the IV level according to the GB/T4213-2008 standard, if the leakage level is available, the cage type shall be first option to the single seat control valves.
Advantages:
1. Because of the balanced plug, this series valves are able to bear big differential pressure, while the matched output force from the actuator is relatively small.
2. Because of the balanced plug, this series valve can be operated stably without frequent vibration.
3. The windows on the cage are deployed symmetrically, the total flow kinetic energy consumes in the core of the cage, so the other inside part are not easy to be damaged, then the noise is lower, the working life is longer.
4. The windows on the cage can be made to meet different flow characteristic according to the working requirement, so the valves with same diameter are able to meet many different requirement of flow capacity CV.

STRUCTURE AND MATERIAL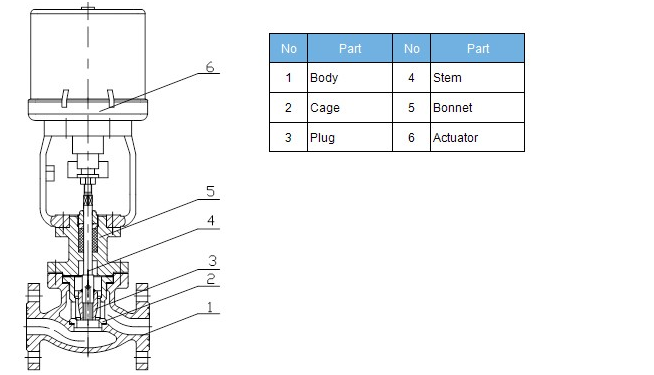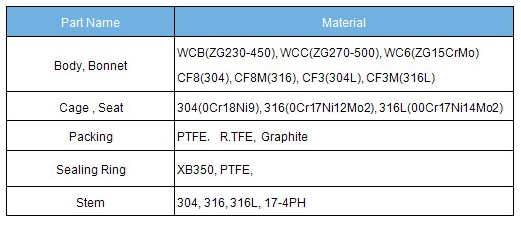 TECHNICAL PARAMETER