Specification:
Flow Rate Q:0.75~685m³/h
Head H:4~130m
Speed N:1450~2900r/min
Caliber: Φ15~Φ800
Temp Range T:-40~+180℃
Service Pressure P: Max 1.6Mpa
Material: cast iron


Product overview
The WFB Non Seal Self Operated Self-priming Pump in absorbs the advanced experience of domestic and foreign related products, based on the improved, innovative products, is a traditional replacement of the same kind of domestic products. The product has the advantages of durability, pressure resistance, wear-resisting, "first drainage, permanent self-absorption" etc. The products are cast iron, cast steel, stainless steel, reinforced polypropylene. Various specifications of various forms. This product has the function of high efficiency, energy saving and structure. After the product launches the market, with its unique design, the reliable quality is popular with the general user's welcome and favorable comment, is chosen by many units to replace the import product.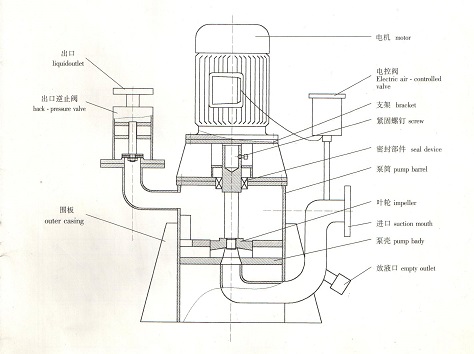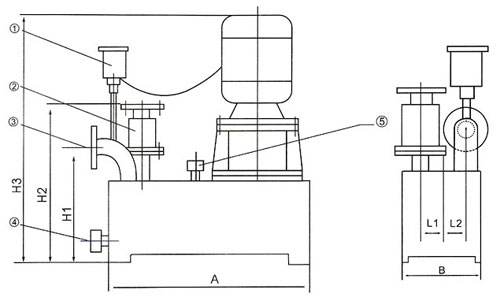 Product features
The WFB Non Seal Self Operated Self-priming Pump is reliable, with no leak sealing device, which is composed of power seal and auxiliary seal. It replaces the packing seal and mechanical seal of the traditional pump, and solves the problems such as the leakage of traditional seal. It is the most ideal product which replaces the pump, submersible pump, and the submersible pump.
The sealing device is not friction-free in the process of pumping, and the service life is more than one O times longer than the traditional one. Portable vacuum pump principle of self-priming performance is stable and reliable, especially the "electric air control valve" truly achieve the first drainage, permanent imbibition, the pump unit, small vibration, low noise and mobile and flexible, easy tear open outfit. It has superior self-control, and can be highly automated with the relevant control system.Usage characteristics: long square type, conical shape can be chosen according to the installation space of the scene; Explosion-proof type applies to inflammable, explosive environment; Outdoor outdoor motor, which can be used in the open air; The cart movement can be changed at any time.


specification
and
model
r/min
Head
M3/h
Capacity
m
Total lift
kw
Matching power
Permissible suctioned depth m
Diameter
of
inlet
Mm
Diameter
of
outle
Mm
Weight tofu the whole machine
kg
Type code
Material code
model
1-5
T.G.PP.BXG
16WFB-A
2900
0.75
8
0.75
2.5
16
10
75
1.1
6.5
1.5
5.5
1-5
T.G.PP.BXG
32WFB-A
2900
4.5
13
1.5
3
32
25
99
6.5
10.5
9
8
1-5
T.G.PP.BXG
40WFB-A
2900
6.5
25
4
4
40
32
140
8.5
23
10
21
1-5
T.G.PP.BXG
40WFB-A2
2900
5
15
2.2
4
40
32
125
8
13
10
11
1-5
T.G.PP.BXG
40WFB-A3
2900
14
8
2.2
4
40
32
125
1-5
T.G.PP.BXG
50WFB-A
2900
7.5
28
5.5
5
50
40
205
12.5
26
15
24.5
1-5
T.G.PP.BXG
50WFB-AD
2900
5
11
1.5
4
50
40
149
6.3
10
7.5
9
1-4
T.G.BXG
50WFB-B
2900
10
40
11
5
50
40
215
11
38
15
35
1-4
T.G.PP.BXG
50WFB-B1
2900
7
33
7.5
5
50
40
205
12
31
15
29
1-5
T.G.PP.BXG
50WFB-B3
2900
5
15
2.2
4
50
40
150
6.4
14
7.5
12.5
1-4
T.G.BXG
50WFB-C
2900
8.5
58
15
5
50
40
240
12
56
15
54
1-4
T.G.BXG
50WFB-C1
2900
11
46
7.5
5
50
40
215
10
40
1-4
T.G.BXG
50WFB-E
2900
7.5
82
22
5
50
40
260
12
80
15
75
1-4
T.G.BXG
50WFB-E1
2900
12
68
18.5
5
50
40
250
11
62
10
55
1-5
T.G.PP.BXG
50WFB-E2
2900
3.5
26
3
4
50
40
170
6.3
25
7.5
24
1-5
T.G.PP.BXG
65WFB-A
2900
15
27
7.5
4
50
50
260
20
26
25
24
1-5
T.G.PP.BXG
65WFB-AD
2900
7
12
3
4
65
50
200
12
11
15
9
1-4
T.G.BXG
65WFB-B
2900
15
41
11
5
65
50
270
25
38
30
36
1-4
T.G.PP.BXG
65WFB-C
2900
15
58
18.5
5
65
50
280
25
56
30
52
1-4
T.G.BXG
65WFB-C1
2900
22
45
15
5
65
50
265
1-5
T.G.PP.BXG
65WFB-C2
2900
7.5
19
4
5
65
50
240
12.5
18
15
17
1-4
T.G.BXG
65WFB-E
2900
15
82
30
5
65
50
450
25
80
1-4
T.G.BXG
65WFB-E1
2900
30
78
18.5
5
65
50
340
21
64
20
55
1-5
T.G.BXG
65WFB-E2
2900
7.5
27.5
7.5
5
65
50
280
12.5
26
15
24.5
1-4
T.G.BXG
65WFB-F
2900
15
127
45
5
65
50
485
25
125
30
123
1-4
T.G.BXG
65WFB-F1
2900
18
108
45
5
65
50
485
21.5
95
23.5
85
1-4
T.G.BXG
65WFB-F2
2900
7.5
38
7.5
5
65
50
270
12.5
37
15
36
1-4
T.G.BXG
65WFB-F3
2900
10
34
5.5
5
65
50
260
9
30
8
26
2-4
T.G.PP.BXG
80WFB-A
2900
30
28
11
6
80
65
380
50
26
60
24
70
20
2-4
T.G.PP.BXG
80WFB-AD
2900
15
11.8
4
4
80
65
305
25
11
30
10.5
38
9
2-4
T.G.BXG
80WFB-B
2900
40
40
15
5
80
65
395
50
38
60
35
65
28
2-4
T.G.PP.BXG
80WFB-BD
2900
15
15
5.5
5
80
65
340
25
14
30
13
35
11
2-4
T.G.BXG
80WFB-C
2900
30
59
22
5
80
65
460
50
55
60
52
2-4
T.G.BXG
80WFB-C1
2900
45
46
15
5
80
65
400
40
38
2-4
T.G.PP.BXG
80WFB-C2
2900
15
19
7.5
320
25
18
5
80
65
30
17
2-4
T.G.PP.BXG
80WFB-CD
2900
21
14
5.5
5
80
65
340
25
12
2-4
T.G.BXG
80WFB-E
2900
30
84
37
480
50
80
5
80
65
60
76
2-4
T.G.BXG
80WFB-E1
2900
30
60
18.5
5
80
65
400
40
50
2-4
T.G.PP.BXG
80WFB-E2
2900
15
27
11
5
80
65
380
25
26
30
24
2-4
T.G.PP.BXG
80WFB-E3
2900
22
22
5.5
5
80
65
300
20
18
2-4
T.G.BXG
80WFB-F
2900
30
128
55
5
80
65
580
50
125
60
120
2-4
T.G.BXG
80WFB-F1
2900
26
103
45
5
80
65
530
30
95
40
80
2-4
T.G.BXG
80WFB-F2
2900
15
38
11
5
80
65
380
25
36
30
35
2-4
T.G.BXG
80WFB-F3
2900
21
34
11
5
80
65
380
23
30
26
26
2-4
T.G.PP.BXG
100WFB-A
2900
60
30
18.5
5
100
80
560
100
26
110
22
120
20
2-4
T.G.PP.BXG
100WFB-AD
1450
30
12
7.5
5
100
80
450
40
11
50
10
60
9
2-4
T.G.BXG
100WFB-B
2900
60
40
22
5
100
80
580
80
36
100
32
120
28
2-4
T.G.PP.BXG
100WFB-BD
14500
30
15
11
5
100
80
520
40
14
50
13
68
11
2-4
T.G.BXG
100WFB-C
2900
45
55
37
5
100
80
630
80
48
100
45
2-4
T.G.BXG
100WFB-C1
2900
75
40
30
5
100
80
605
85
35
2-4
T.G.BXG
100WFB-C2
2900
40
20
11
5
100
80
520
50
19
60
18
2-4
T.G.PP.BXG
100WFB-C3
2900
40
16
7.5
500
45
15
5
100
80
2-4
T.G.BXG
100WFB-E
2900
60
87
55
5
100
80
720
80
80
100
75
2-4
T.G.PP.BXG
100WFB-C2
2900
30
26
11
5
100
80
530
50
25
55
24
2-4
T.G.BXG
100WFB-F
2900
60
133
90
5
100
80
965
80
125
100
120
2-4
T.G.BXG
100WFB-F1
2900
80
108
75
5
100
80
820
90
90
100
80
2-4
T.G.BXG
100WFB-F2
2900
30
40
15
5
100
80
550
50
38
60
36
2-4
T.G.BXG
125WFB-A
2900
100
55
55
5
125
100
900
150
50
180
45
2-4
T.G.BXG
125WFB-A1
2900
170
30
45
5
125
100
860
185
20
2-4
T.G.PP.BXG
125WFB-A2
2900
70
19
15
5
125
100
720
80
17
100
86
2-4
T.G.BXG
125WFB-B
2900
120
80
110
5
125
100
1150
200
72
240
65
2-4
T.G.BXG
125WFB-B1
2900
150
60
75
5
125
100
1005
170
86
T.G.BXG
125WFB-B
2900
120
80
110
5
125
100
1150
2-4
200
72
240
65
2-4
T.G.BXG
125WFB-B1
2900
150
60
75
5
125
100
1005
170
26
2-4
T.G.BXG
125WFB-B2
2900
80
25
22
5
125
100
760
100
24
120
22
2-4
125WFB-B3
2900
85
20
18.5
5
125
100
730
T.G.BXG
90
132
2-4
125WFB-C
2900
160
125
160
5
125
100
15820
T.G.BXG
180
120
200
120
2-4
125WFB-C1
2900
180
108
110
5
125
100
1270
T.G.BXG
190
93
208
80
2-4
125WFB-C2
2900
80
40
30
5
125
100
790
T.G.BXG
100
38
120
36.5
2-4
125WFB-C3
2900
92
23
18.5
5
125
100
750
T.G.BXG
85
26
80
27
2-4
125WFB-E
2900
70
52
37
5
125
100
820
T.G.BXG
90
50
110
48
2-4
150WFB-A
2900
120
28
30
5
150
125
990
T.G.BXG
185
26
200
23.5
240
22.5
2-4
150WFB-AD
1450
160
20
22
5
150
125
960
T.G.BXG
150WFB-B
2900
156
40
45
5
150
125
1060
180
36
225
30
2-4
150WFB-BD
1450
220
29
45
5
150
125
1080
T.G.BXG
260
25
2-4
150WFB-B1
2900
160
34
37
5
150
125
1020
T.G.BXG
180
29
195
26
2-4
150WFB-BD1
1450
120
55
75
5
150
125
1205
T.G.BXG
200
50
140
45
2-4
150WFB-C
2900
180
45
55
5
150
125
1100
T.G.BXG
190
38
2-4
T.G.BXG
150WFB-C1
2900
165
36
37
5
150
125
1020
2-4
200WFB-AD
1450
250
26.5
55
5
200
150
1415
T.G.BXG
400
25
450
23.5
2-4
200WFB-BD
1450
240
42
75
5
200
150
1520
T.G.BXG
350
37
420
33.5
2-4
T.G.BXG
200WFB-BD1
1450
340
28.5
55
5
200
150
1415
2-4
200WFB-BD2
310
25
75
5
200
150
1375
T.G.BXG
380
18
450
13
520
10
2-4
200WFB-CD
1450
280
55
110
5
200
150
1790
T.G.BXG
380
50
420
45
2-4
T.G.BXG
200WFB-CD1
1450
360
45
90
5
200
150
1660