Introduction
Double block & bleed valve (DBBV) is a non-lubricated, resilient seal, plug-type valve which has a mechanical means of freeing the plug before it is rotated from the closed to the open position.
In opening the valve, the plug is raised, thus retracting the seating segments or slips through their tapered dovetail connections. Only after the slips are fully retracted from the body seat is the plug rotated to the open position.
Conversely, in closing the valve, the plug and slips are rotated freely, with no seal-to-body contact until the slips are positioned over the ports.
Then the plug is driven down between the slips and the tapered surfaces wedge out the slips for a positive upstream as well as downstream shut-off.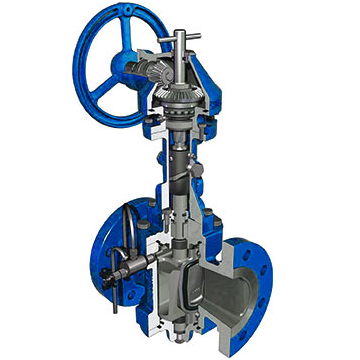 The small DBB general plug valve is handwheel operated, and require up to 3 turns to open or close. Up to 2 3/4 turns expand or retract the slips, while turn rotates the plug. Large valves operate in a similar manner, except that they have enclosed weather-proof worm gearing.
At the top of the valve, a position indicator flag shows the exact plug position. It appears in line with the flow when the valve is open and perpendicular to the flow when the valve is closed.
Since DBBV hold bubble-tight, for ease of opening in liquid service, it is important to prevent trapped body pressure from exceeding the working pressure of the valve.
Therefore, a relief system is required to prevent pressure buildup in the body cavity.
For maximum upstream sealing, do not back off the hand wheel.
Warning: Do not over torque by using cheater bars.

Pressure Test
ASME Class
150
300
600
900
Result
Shell Test Pressure
(Valve Open)
(Pisg)
(kg/cm2)
500
35
1200
85
2250
158
3350
235
No Leakage Permitted
Seat Test Pressure
(Pisg)
300
800
1600
2400
Test upstream & downstream
(Valve Closed)
(kg/cm2)
21
56
113
168
Seats. No leakage permitted
Supplementary (API 598)
Air Seat Test Pressure
(Pisg)
80
80
80
80
Test upstream & downstream
(Valve Closed)
(kg/cm2)
6
6
6
6
Seats. No leakage permitted
Structure of Short Pattern Orbit Plug Valve with Handle Wheel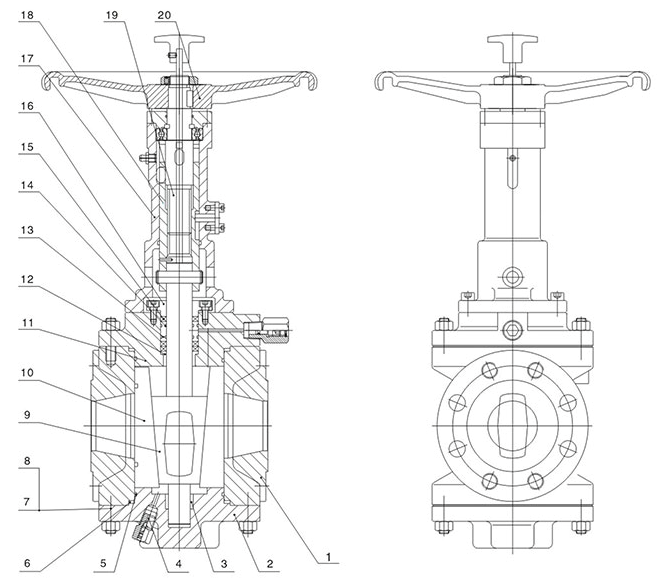 Body
Cover
Bearing
Drain valve
O-ring
Spiral
Wounded
Gasket
Stud
Nut
Plug
Disc
11
12
13
14
15
16
17
18
19
20
Upper Cover
Upper
Bearing
Seal ring
O-ring
Packing
Packing
Gland
Yoke
Slide
Bushing
Stem
Hand Wheel
Structure of Short Pattern Orbit Plug Valve with Gear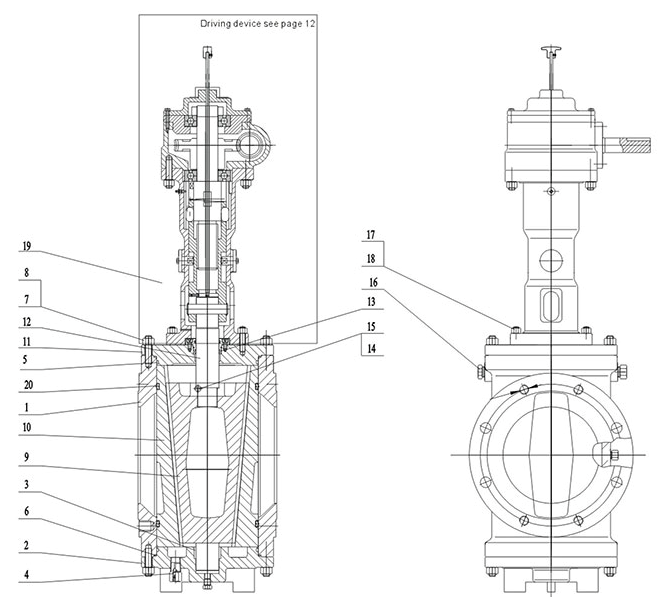 Body
Lower Cover
Non-lubricated
bearing
Drain Valve
O-ring
FS Gasket
Stud
Nut
Plug
Disc
11
12
13
14
15
16
17
18
19
20
Upper Cover
Stem
FS Packing
Pin
Inner Hex
Screw
Block
Stud
Nut
Driving device
Seal Ring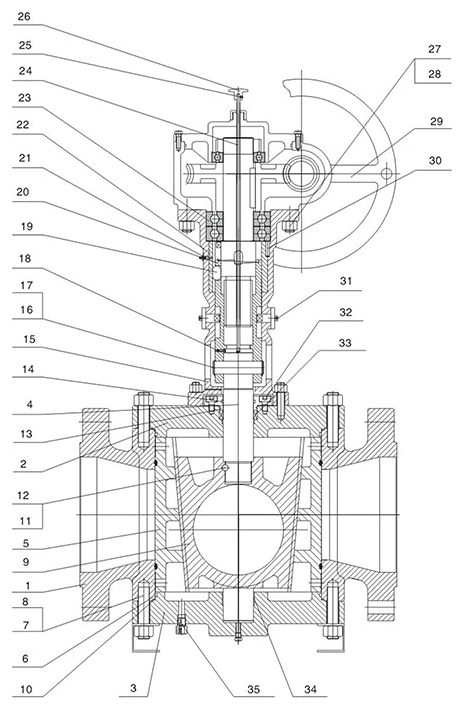 Body
Lower Cover
Non-lubricated
bearing
Drain Valve
O-ring
FS Gasket
Stud
Nut
Plug
Disc
11
12
13
14
15
16
17
18
19
20
Upper Cover
Stem
FS Packing
Pin
Inner Hex
Screw
Packing
Gland
Block
Stud
Nut
Handwheel
21
22
23
24
25
26
27
28
29
30
Seal Ring
Guiding Bush
Shaft Bushing
Indicating Arm
Set Screw
Pointer
Nut
Stud
Handwheel
Pin
31
32
33
34
35
Seal Ring
Inner Hex
Screw
FS Packing
Bearing
Drain Valve
Structure of Full Bore Type Orbit Plug Valve with Gear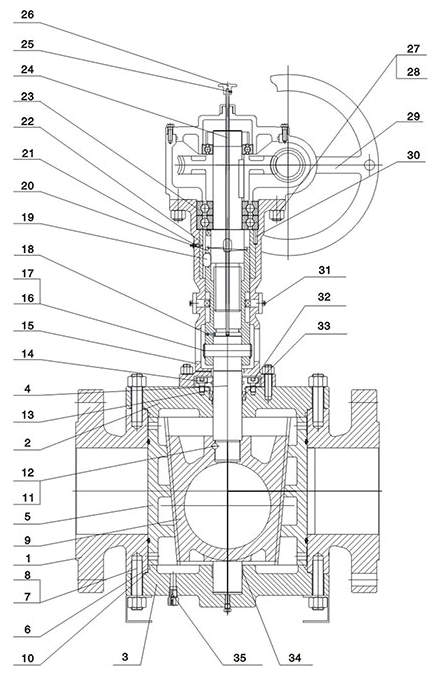 Body
Lower Cover
Non-lubricated
Bearing
Drain Valve
O-ring
FS Gasket
Stud
Nut
Plug
Disc
11
12
13
14
15
16
17
18
19
20
Upper Cover
Stem
FS Packing
Pin
Inner
Hex Screw
Emgency seal device
Plug
Bolt
Nut
Driving Device
21
22
23
24
25
26
27
28
29
30
Seal Ring
Guiding Bush
Bearing
Indicating
Arm
Set Screw
Pointer
Nut
Bolt
Hand Wheel
Pin
31
32
33
34
35
Inner
Hex Screw
Inner
Hex Bolt
FS Packing
Bearing
Drain Valve
Structure of Gear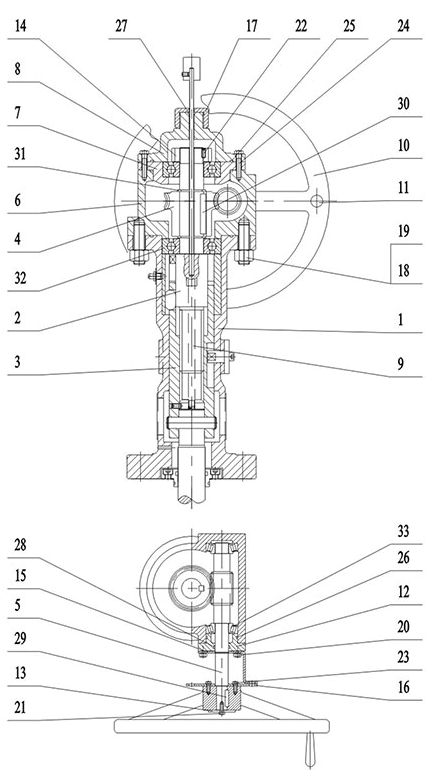 | | |
| --- | --- |
| NO. | Name |
| 1 | Yoke |
| 2 | Driving Stem |
| 3 | Driving Bushing |
| 4 | Worm Gear |
| 5 | Gear Stem |
| 6 | Box |
| 7 | Bearing Seat |
| 8 | Box Cover |
| 9 | Indicating Arm |
| 10 | HW |
| 11 | Lever |
| 12 | End cover |
| 13 | Gasket |
| 14 | Lockable Nut |
| 15 | Locking Nose |
| 16 | Lock Pad |
| 17 | Cover Cap |
| 18 | Nut |
| 19 | Stud |
| 20 | Bolt |
| 21 | Bolt |
| 22 | Lock screw |
| 23 | Bolt |
| 24 | Bolt |
| 25 | O-ring |
| 26 | O-ring |
| 27 | O-ring |
| 28 | O-ring |
| 29 | O-ring |
| 30 | Normal Key |
| 31 | Normal Key |
| 32 | Shaft Washer |
| 33 | Oil Cup |
| 34 | Bearing |
| 35 | Bearing |
Materials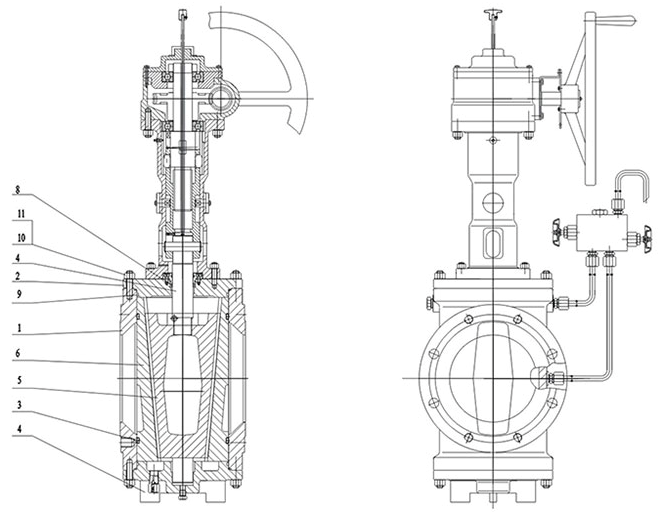 Dimension of Short Pattern Orbit Plug Valve With Handwheel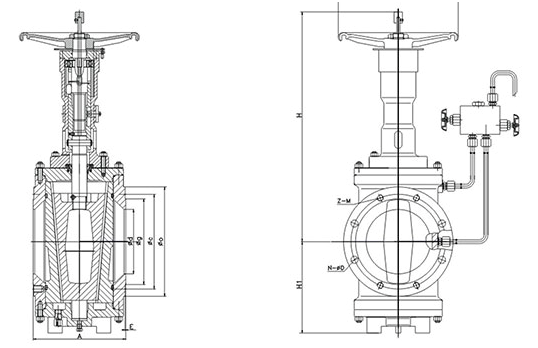 Class
NPS
A
d
g
c
o
T
E
N-ΦD
H
H1
G
Wt
Cv
150
2
178
50
92
120.7
150
14.3
2
4-19
470
135
250
26
190
3
203
76
127
152.4
190
17.5
2
4-19
517
159
300
34
254
4
229
100
157.2
190.5
230
22.3
2
8-19
573
185
400
72
582
6
267
150
215.9
241.3
280
23.9
2
8-22.5
712
215
450
107
1360
8
292
201
269.9
298.5
345
27
2
8-22.5
760
288
500
210
2250
300
2
216
50
92
127
165
20.7
2
8-19
470
135
250
30
201
3
283
76
127
168.3
210
27
2
8-22.5
530
159
350
43
265
4
305
100
157.2
200
255
30.2
2
8-22.5
577
185
450
86
610
6
403
150
215.9
269.9
320
35
2
12-22.5
712
220
550
180
1680
600
2
292
50
92
127
165
25.4
7
8-19
515
139
350
52
275
3
356
76
127
168.3
210
31.8
7
8-22.5
530
159
400
77
290
4
432
100
157.2
215.9
275
38.1
7
8-25.5
618
190
500
120
830
PN
DN
A
d
9
c
0
T
E
N-ΦD
H
H1
G
Wt
Cv
1.6
50
178
50
100
125
160
16
3
4-18
470
135
250
26
190
80
203
76
135
160
195
20
3
8-18
517
159
300
34
254
100
229
100
155
180
215
20
3
8-18
573
185
400
72
582
150
267
150
210
240
280
24
3
8-22
712
215
450
107
1360
200
292
201
265
295
335
26
3
12-23
760
288
500
210
2250
2.5
50
216
50
100
125
160
20
3
4-18
470
135
250
30
201
80
283
76
135
160
195
22
3
8-18
530
159
350
43
265
100
305
100
160
190
230
24
3
8-23
577
185
450
86
610
150
403
150
218
250
300
30
3
8-25
712
220
550
180
1680
4.0
50
216
50
100
125
160
20
3
4-18
470
135
250
30
201
80
283
76
135
160
195
22
3
8-18
530
159
350
43
265
100
305
100
156
190
230
24
3
8-23
577
185
450
86
610
150
403
150
218
250
300
30
3
8-25
712
220
550
180
1680
6.3
50
292
50
105
135
175
26
3
4-23
515
139
350
52
275
80
356
76
140
170
210
30
3
8-23
530
159
400
77
290
100
432
100
168
200
250
32
3
8-25
618
190
500
120
830
10
50
292
50
112
145
195
28
3
4-25
515
139
350
52
275
80
356
76
148
180
230
34
3
8-25
530
159
400
77
290
100
432
100
172
210
265
38
4.5
8-30
618
190
500
120
830
Dimension of Short Pattern Orbit Plug Valve With Gear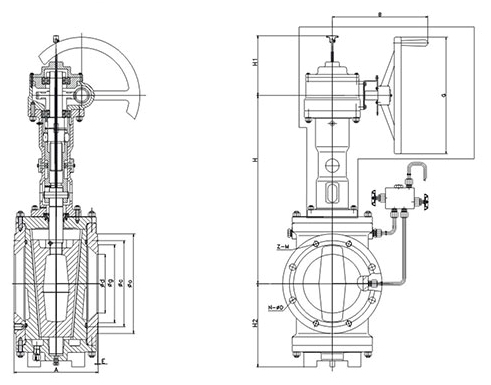 Class
NPS
A
d
g
c
o
T
E
N-ΦD
H
H1
H2
G
B
Wt
Cv
150
2
178
50
92
120.7
150
14.3
2
4-19
412
155
135
320
265
35
190
3
203
76
127
152.4
190
17.5
2
4-19
429
155
159
320
265
48
254
4
229
100
157.2
190.5
230
22.3
2
8-19
454
155
185
320
265
88
582
6
267
150
215.9
241.3
280
23.9
2
8-22.5
575
185
215
460
330
126
1360
8
292
201
269.9
298.5
345
27
2
8-22.5
656
185
288
460
330
246
2250
10
330
252
323.8
362
405
28.6
2
12-25.5
734
185
333
460
330
289
3506
12
356
303
381
431.8
485
30.2
2
12-25.5
752
194
350
460
372
458
3920
14
381
334
412.8
476.3
535
33.4
2
12-28.5
808
194
385
460
372
560
5420
16
406
385
469.9
539.8
595
35
2
16-28.5
847
210
417
500
400
775
6910
300
2
216
50
92
127
165
20.7
2
8-19
412
155
135
320
265
42
201
3
283
76
127
168.3
210
27
2
8-22.5
429
155
159
320
265
55
265
4
305
100
157.2
200
255
30.2
2
8-22.5
454
155
185
320
265
88
610
6
403
150
215.9
269.9
320
35
2
12-22.5
575
185
215
460
330
185
1680
8
419
201
269.9
330.2
380
39.7
2
12-25.5
656
185
288
460
330
362
2955
10
457
252
323.8
387.4
445
46.1
2
16-28.5
734
185
333
460
330
462
3490
12
502
303
381
450.8
520
49.3
2
16-32
752
194
350
460
372
736
4630
600
2
292
50
92
127
165
25.4
7
8-19
430
180
140
320
280
54
275
3
356
76
127
168.3
210
31.8
7
8-22.5
445
180
159
320
280
80
290
4
432
100
157.2
215.9
275
38.1
7
8-25.5
525
185
190
460
330
145
830
6
559
150
215.9
292.1
355
47.7
7
12-28.5
655
194
249
460
372
360
2235
8
660
201
269.9
349.2
420
55.6
7
12-32
760
210
310
500
400
574
3550
PN
DN
A
d
g
c
o
T
E
N-ΦD
H
H1
H2
G
B
Wt
Cv
1.6
50
178
50
100
125
160
16
3
4-18
412
155
135
320
265
35
190
80
203
76
135
160
195
20
3
8-18
429
155
159
320
265
48
254
100
229
100
155
180
215
20
3
8-18
454
155
185
320
265
88
582
150
267
150
210
240
280
24
3
8-23
575
185
215
460
330
126
1360
200
292
201
265
295
335
26
3
12-23
656
185
288
460
330
246
2250
250
252
323.8
320
355
405
30
3
12-25
734
185
333
460
330
289
3506
300
303
381
375
410
460
30
3
12-25
752
194
350
460
372
458
3920
350
381
334
435
470
520
34
3
16-25
808
194
385
460
372
560
5420
400
406
385
485
525
580
36
3
16-30
847
210
417
500
400
775
6910
2.5
50
216
50
100
125
160
20
3
4-18
412
155
135
320
265
42
201
80
283
76
135
160
195
22
3
8-18
429
155
159
320
265
55
265
100
305
100
160
190
230
24
3
8-23
454
155
185
320
265
88
610
150
403
150
218
250
300
30
3
8-25
575
185
215
460
330
185
1680
200
419
201
278
310
360
34
3
12-25
656
185
288
460
330
362
2955
250
457
252
332
370
425
36
3
12-30
734
185
333
460
330
462
3490
300
502
303
390
430
485
40
3
16-30
752
194
350
460
372
736
4630
PN
DN
A
d
g
c
o
T
E
N-ΦD
H
H1
H2
G
B
Wt
Cv
4.0
Female
face
50
216
50
100
125
165
20
3
4-18
412
155
135
320
265
42
201
80
283
76
135
160
195
22
3
8-18
429
155
159
320
265
55
265
100
305
100
160
190
230
24
3
8-23
454
155
185
320
265
88
610
150
403
150
218
250
300
30
3
8-25
575
185
215
460
330
185
1680
200
419
201
282
320
375
38
3
12-30
656
185
288
460
330
362
2955
250
457
252
345
385
445
42
3
12-34
734
185
333
460
330
462
3490
300
502
303
409
450
510
46
4
16-34
752
194
350
460
372
736
4630
6.3
Female
face
50
292
50
105
135
175
26
3
4-23
430
180
140
320
280
54
275
80
356
76
140
170
210
30
3
8-23
445
180
159
320
280
80
290
100
432
100
168
200
250
32
3
8-25
525
185
190
460
330
145
830
150
559
150
240
280
345
38
3
8-34
655
194
249
460
372
360
2235
200
660
201
300
345
415
44
3
12-34
760
210
310
500
400
574
3550
10
Female
face
50
292
50
112
145
195
28
3
4-25
430
180
140
320
280
54
275
80
356
76
148
180
230
34
3
8-25
445
180
159
320
280
80
290
100
432
100
172
210
265
38
3
8-30
525
185
190
460
330
145
830
150
559
150
250
290
350
46
3
12-34
655
194
249
460
372
360
2235
200
660
201
312
360
430
54
3
12-41
760
210
310
500
400
574
3550
Dimension of Reduced Bore Type Orbit Plug Valve With Gear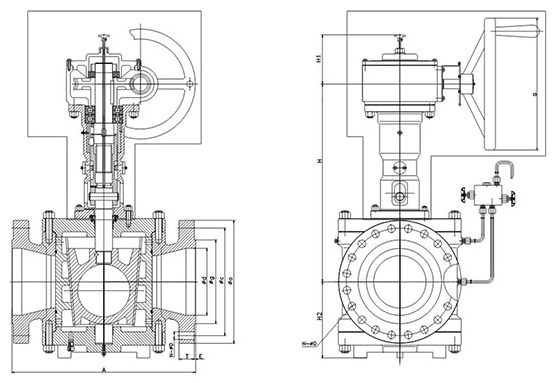 Class
NPS
A
d
9
c
0
T
E
N-ΦD
H
H1
H2
G
B
Wt
Cv
150
18
864
436
533.4
577.9
635
38.1
2
16-32
923
210
393
600
463
1385
10740
20
1016
487
584.2
635
700
41.3
2
20-32
958
210
436
600
463
1748
15460
24
1219
589
692.2
749.3
815
46.1
2
20-35
1121
230
492
720
488
3405
23660
30
1524
735
857.2
914.4
984
74.6
2
28-35
1269
250
590
860
770
7240
32500
36
1981
874
1022
1085.8
1168
90.4
2
4-22
1500
250
730
860
815
11198
47300
300
14
762
334
412.8
514.4
585
52.4
2
20-32
860
210
338
600
463
1080
59200
16
838
385
469.9
571.5
650
55.6
2
20-35
943
210
372
600
463
1440
9250
18
914
436
533.4
628.6
710
58.8
2
24-35
1048
230
414
720
488
1895
11320
20
990
487
584.2
685.8
775
62
2
24-35
1094
250
465
860
770
2220
16050
24
1320
589
692.2
812.8
915
68.3
2
24-41
1148
250
519
860
770
4430
26590
30
1651
735
857.2
997
1092
92
2
4-22
1435
250
590
860
815
8178
32990
600
10
787
252
323.8
431.8
510
63.5
7
16-35
919
230
336
720
488
1055
5020
12
838
303
381
489
560
66.7
7
20-35
950
230
361
720
488
1375
9160
14
889
334
412.8
527
605
69.9
7
20-38
964
230
375
720
488
2228
9400
16
991
385
469.9
603.2
685
76.2
7
20-41
1132
250
413
860
770
2338
10800
18
1029
436
533.4
654
745
82.6
7
20-44.5
1150
250
442
860
770
3566
13500
20
1194
487
584.2
723.9
815
88.9
7
24-44.5
1336
250
479
860
815
4992
16260
24
1397
589
692.2
838.2
940
101.6
7
24-51
1407
250
607
860
815
8154
2660
900
2
368
50
92
165.1
215
38.1
7
8-25.5
514
185
186
460
330
97
155
3
381
76
127
190.5
240
38.1
7
8-25.5
582
185
171
460
330
126
245
4
457
100
157.2
235
290
44.5
7
8-32
627
185
203
460
330
216
640
6
610
150
215.9
317.5
380
55.6
7
12-32
710
194
270
500
372
530
2350
8
737
201
269.9
393.7
470
63.5
7
12-38
908
230
303
720
488
618
4140
10
838
252
323.8
469.9
545
69.9
7
16-38
1068
250
356
860
770
1956
5420
1500
2
368
50
124
165.1
215
38.1
7.9
8-25.5
592
185
190
460
330
97
155
3
470
76
168
203.2
265
47.7
7.9
8-32
607
185
202
460
330
152
240
PN
DN
A
d
g
c
o
T
E
N-ΦD
H
H1
H2
G
B
Wt
Cv
1.6
450
864
436
550
585
640
40
4
20-30
923
200
393
600
463
1385
10740
500
1016
487
610
650
715
44
4
20-33
958
200
436
600
463
1748
15460
600
1219
589
725
770
840
54
5
20-36
1121
230
492
720
488
3405
23660
900
1981
874
1000
1050
1125
64
5
28-39
1500
250
730
860
815
11198
47300
2.5
Female
face
350
762
334
450
490
555
38
4
16-33
860
200
338
600
463
1080
59200
400
838
385
505
550
620
40
4
16-36
943
200
372
600
463
1440
9250
450
914
436
555
600
670
46
4
20-36
1048
230
414
720
488
1895
11320
500
991
487
615
660
730
48
4
20-36
1094
250
465
860
770
2220
16050
600
1143
589
720
770
845
58
5
20-39
1148
250
519
860
770
4430
26590
4.0
Female
face
350
762
334
465
510
580
46
4
16-36
860
200
338
600
463
1080
59200
400
838
385
535
585
660
50
4
16-39
943
200
372
600
463
1440
9250
450
914
436
560
610
685
57
4
20-39
1048
230
414
720
488
1895
11320
500
991
487
615
670
755
57
4
20-42
1094
250
465
860
770
2220
16050
600
1143
589
735
795
890
72
5
20-48
1148
250
519
860
770
4430
26590
6.3
Female
face
250
673
252
345
400
470
46
3
12-36
919
230
336
720
488
1055
5020
300
762
303
410
460
530
52
4
16-36
950
230
361
720
488
1375
9160
350
826
334
465
525
600
56
4
16-39
964
230
375
720
488
2228
9400
400
902
436
535
585
670
60
4
16-42
1132
250
413
860
770
2338
10800
10.0
Female
face
250
787
252
345
430
505
60
3
12-39
919
230
336
720
488
1055
5020
300
838
303
410
500
585
68
4
16-42
950
230
361
720
488
1375
9160
350
889
334
465
560
655
74
4
16-48
964
230
375
720
488
2228
9400
400
991
436
535
620
715
80
4
16-54
1132
250
413
860
770
2338
10800
16.0
Female
face
50
368
50
102
145
195
30
3
4-26
514
185
186
460
330
97
155
80
381
76
138
180
230
36
3
8-26
582
185
171
460
330
126
245
100
457
100
162
210
265
40
3
8-30
627
185
203
460
330
216
640
150
610
150
218
290
355
50
3
12-33
710
194
270
500
372
530
2350
200
737
201
285
360
430
60
3
12-36
908
230
303
720
488
618
4140
250
838
252
345
430
515
68
3
12-42
1068
250
356
860
770
1956
5420
Dimension of Round Hole Full bore Type Orbit Plug Valve With Gear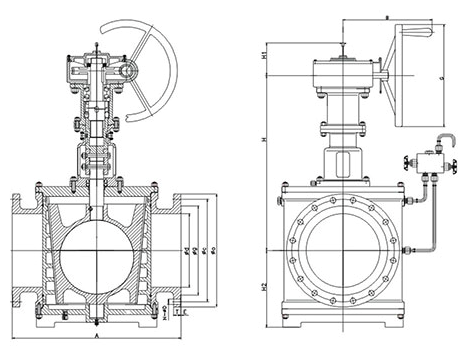 Class
NPS
A
d
g
c
o
T
E
N- ΦD
H
H1
H2
G
B
Wt
Cv
150
2
267
50
92
120.7
150
14.3
2
4-19
424
155
158
320
265
114
525
3
343
76
127
152.4
190
17.5
2
4-19
516
175
186
320
280
171
1280
4
432
100
157.2
190.5
230
22.3
2
8-19
535
175
218
320
280
218
2330
6
546
150
215.9
241.3
280
23.9
2
8-22
662
185
258
460
330
284
5250
8
622
201
269.9
298.5
345
27
2
8-22
732
194
290
460
372
468
10800
10
660
252
323.8
362
405
28.6
2
12-26
761
194
323
460
372
693
17500
12
762
303
381
431.8
485
30.2
2
12-26
900
210
377
600
463
908
25600
14
686
334
412.8
476.3
535
33.4
2
12-29
923
210
393
600
463
1308
31400
16
762
385
469.9
539.8
595
35
2
16-29
958
210
436
600
463
1634
42500
18
864
436
533.4
577.9
635
38.1
2
16-32
1042
230
484
720
488
3098
54700
20
914
487
584.2
635
700
41.3
2
20-32
1067
230
507
7520
488
3351
70900
24
1067
589
692.2
749.3
815
46.1
2
20-35
1269
250
590
860
770
6958
106000
Class
NPS
A
d
g
c
o
T
E
N- ΦD
H
H1
H2
G
B
Wt
Cv
300
2
283
50
92
127
165
20.7
2
8-19
500
175
159
320
280
142
520
3
387
76
127
168.3
210
27
2
8-22
516
175
195
320
280
215
1250
4
457
100
157.2
200
255
30.2
2
8-22
539
175
218
320
280
238
2280
6
559
150
215.9
369.9
320
35
2
12-22
668
185
260
460
330
334
5140
8
686
201
269.9
330.2
380
39.7
2
12-26
844
210
295
600
463
682
10580
10
826
252
323.8
387.4
445
46.1
2
16-29
872
210
332
600
463
978
17100
12
965
303
381
450.8
520
49.3
2
16-32
964
230
378
720
488
1359
25000
14
762
334
412.8
514.4
585
52.4
2
20-32
982
230
408
720
488
1856
30700
16
838
385
469.9
571.5
650
55.6
2
20-35
1154
250
460
860
770
2174
41600
18
914
436
533.4
628.6
710
58.8
2
24-35
1185
250
501
860
770
3238
53600
20
991
487
584.2
685.8
775
62
2
24-35
1216
250
532
860
815
3805
69400
Class
NPS
A
d
g
c
o
T
E
N- ΦD
H
H1
H2
G
B
Wt
Cv
600
2
330
50
92
127
165
25.4
7
8-19
510
175
171
320
280
217
510
3
445
76
127
168.3
210
31.8
7
8-22
607
185
195
320
330
297
1240
4
508
100
157.2
215.9
275
38.1
7
8-26
632
185
223
320
330
331
2260
6
660
150
215.9
292.1
355
47.7
7
12-29
736
210
284
500
400
598
4640
8
794
201
269.9
349.2
420
55.6
7
12-32
919
230
336
720
488
1185
9030
10
940
252
323.8
431.8
510
63.5
7
16-35
956
230
375
720
488
1924
14790
12
1067
303
381
489
560
66.7
7
20-35
1132
250
413
860
770
2663
23080
14
889
334
412.8
527
605
69.9
7
20-39
1157
250
442
860
815
4305
29020
16
991
436
469.9
603.2
685
76.2
7
20-42
1346
250
484
860
815
5164
39300